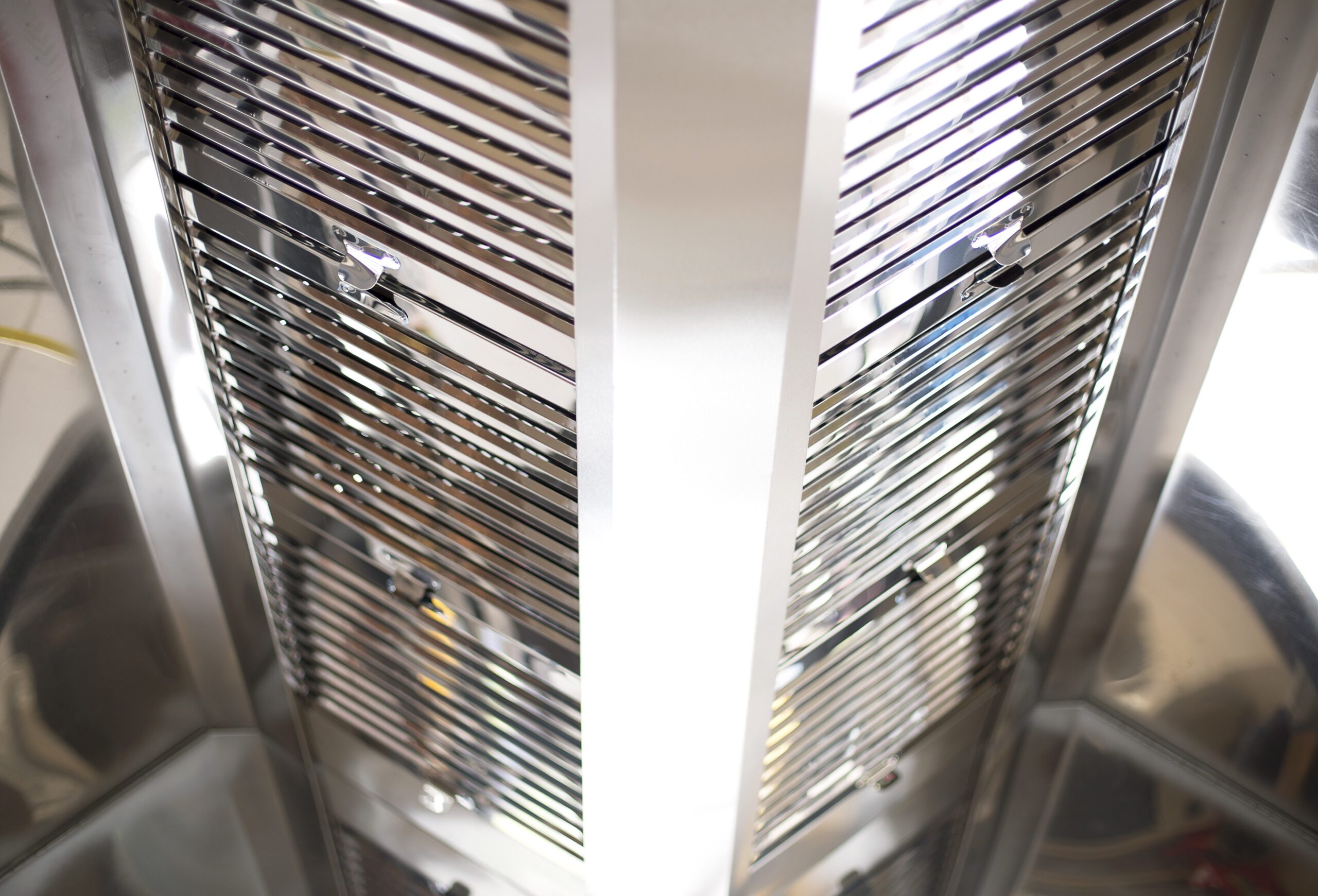 Install Commercial Exhaust Fans in Northern California
We install commercial exhaust fans in Northern California to ensure your ventilation system stays functional. Contact us for an estimate.
About Commercial Exhaust Fans
Commercial exhaust fans are normally located on the exterior of the building or in another place open to the outside air. Exhaust fans can be mounted on the roof or the side of the building. Depending on the direction the discharge airflow needs to go, you can order a side-mount, downdraft, or up-shot type of exhaust fan.
Kitchen Hood or Extraction Hood Supply Air Return
The type and size of commercial exhaust fan varies depending on the application. To choose the right exhaust fan, you need to know how it will be used.
For the ventilation of commercial kitchen hoods, such as an island hood, our most popular model is an upshot (discharge air goes vertically out of the fan), centrifugal, and "mushroom" type assembly.
Up-blast fans are typically aluminum centrifugal and are designed for roof mounting directly on the exhaust stack. Utility fans usually are roof-mounted with the inlet and outlet 90 degrees from each other and are typically used where high-static pressure losses exist. In-line fans are typically located in the interior duct and used where exterior fan mounting is impractical.
There are many alternatives for each project. Contact us to discuss the best option for you.
Types of Exhaust Fans vs. Types of Discharge
All components for your commercial exhaust fans must be accessible or have removable access panels for cleaning and inspection. They should also contain and drain any excess grease.
Axial Fan
Upward Discharge: None
Downward Discharge: Venting Kitchen to Atmosphere without Grease
Side Discharge: None
Centrifugal Fan
Upward Discharge: Commercial Island Hood, Any Commercial Hood with Roof Access, and Emergency Ventilation System
Downward Discharge: Grease Hood with Roof Access and Emergency Ventilation System
Side Discharge: Commercial Hood with Duct Running Out Through Side of Structure
Commercial Make-Up Air Units (MAU)
We install commercial MAU to prevent air pressure and airflow problems at your restaurant.
How a Commercial MAU Works
An exhaust hood pulls 8,000 Cubic Feet per Minute (CFM) of air out of the kitchen space. Without an MAU to push 8,000 CFM of air back into the kitchen, the kitchen will run in an 8,000 CFM negative differential.
This means 8,000 CFM of air will be drawn out of the dining room, food preparation areas, offices, or any other space around the structure. This can cause uncontrollable and uncomfortable drafts and make doors hard to open. To prevent air pressure issues, you need MAU installation. An MAU resupplies air to the building while the exhaust fan pulls the air out.
Choose the Right Commercial MAU
Many types of commercial make-up air units are available to suit every region's needs. Economical units with an assembly and fan deliver outside air directly back into the building.
Heated make-up air units are ideal for cold climates because they heat the air before pushing it into the kitchen. Cooled make-up air units (AKA evaporative coolers) are great for warm weather because they push cool air into the kitchen. They run efficiently and help minimize energy bills.
Heated MAU
Heats Air Before Entering: Intermittent Pilot and Direct Fire
Downward Discharge: Mounts to Roof to Blow Downwards into the Structure
Side Discharge: Can Be Mounted Outside the Building on Ground Level and Blown in Through a Wall
Cooled MAU
Cools Air Before Entering: Media Membrane
Downward Discharge: Mounts to Roof to Blow Downwards into the Structure
Side Discharge: Can Be Mounted Outside the Building on Ground Level and Blown in Through a Wall
Simple Unit Fan
Blows Outside Air Directly into the Structure
Downward Discharge: Mounts to Roof to Blow Downwards into the Structure
Side Discharge: Can Be Mounted Outside the Building on Ground Level and Blown in Through a Wall